Chamber members can take advantage of our billboard program.  This benefit provides a reduced pricing structure and the option of advertising with up to three businesses.
These billboards are located in Saginaw and Genessee counties and can be moved throughout the duration of the one-year contract.  This is available only to Birch Run Bridgeport Chamber of Commerce members.
$750 Per Board
$9,750 Total Payments (13 4-week periods)
PLEASE NOTE:
Bill contracts are billed over 13 periods (4 weeks) or can be paid in full.
A one-time production fee of $672 per board is billed at the start of the contract and will be divided among the number of advertisers.
Call the Chamber office at 989.624.9193 to take advantage of this great opportunity.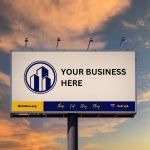 VISIBILITY – Bigger is usually better in advertising, right? Therefore, one of the main benefits of using billboards is that…
Read More